Abheda eSchool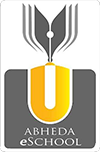 Our Bengal can now boast of its first digital school - Abheda eSchool – which is a special endeavor of Abheda Foundation. Located in Jalangi, Murshidabad this school institutes a (digital) service to the underprivileged as Abheda Foundation takes the best of technology to the doorsteps of the most deserving. Digital education thus provided at Abheda eSchool aspires to smooth out differences in teaching levels across societies and geographies. Hence the institute is expected to set a path for other organizations and government to take up affordable digital education in the coming years.
We position our Abheda eSchool as an English training institute in the first year, i.e. 2017. Our Abheda English – need of the hour - features here in the classroom model, which entails teaching by local teacher(s) in classrooms through an android environment and TV. The daily theory lessons are supplemented on the same day with quiz sessions using tablets. The classroom model is reserved for class V to VIII in the morning and evening while higher class and bachelor degree students may adopt (only) self-learning in the afternoon. English syllabus teaching is also taken up. After 6 months' of written English the students learn spoken English online – through video conferencing - from reputed teachers located in the cities. Name of the above course as a whole is Abheda English.
We offer another course named Abheda Interest, in which our sole objective is to evoke interest among students in learning and build life skills. We divide this course into two parts. Part A involves guiding the students into online and offline browsing of documents and videos of interest to them - initially the ones pertaining to their syllabus. It promotes self-learning. Abheda has a team to create, reasearch and assimilate contents from web and elsewhere. Part B is grandparenting. In this mode in weekends senior citizens impart online sessions on i) story telling, ii) good movies, iii) Bengali recitations etc.