Products
Abheda English
Overview
Abheda has developed its transformative product Abheda English on android platform – available free on Google Play Store - as we realize that English is still the best enabler and leveler in our society and it begets confidence. We hereby inculcate the skill of communicating in correct English by strengthening base in students through easy, attractive yet effective contents. And our contents are not targeted to a particular level that a student may be in; anybody interested, not even having basic knowledge of English, can learn through this app. This facet extends the population using Abheda English from school students to collections like rural men and women, labourers, school dropouts, elderly community etc. As most of the country's population is shortly going to utilize digital apps in numbers for day-to-day needs such as banking, subsidy, pension, health insurance etc. and android-based phones are becoming cheaper, this kind of application will take forward the 'Digital India' initiative of the government.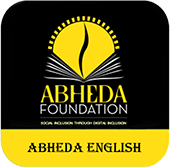 To make rural students and general public overcome the psychological and cultural barrier of learning English, we have adopted a semi-optimal teaching method – using medium as Indian languages. All the more, we have taken a bottoms-up approach figuring out typical difficulties faced by students of rural Bengal and have introduced 500 basic words and 500 basic sentences with constructs like am-is-are, has-have, simple verb forms etc to weed out common mistakes (e.g. no verb, mother-tongue words translated verbatim to English to form sentences etc.) made by these students through detailed explanations of the mistakes and putting the mistakes into wrong options of the quizzes. Next come all aspects of English grammar – avoiding grammatical terms as much as possible – followed by teaching on conversations, special uses and vocabulary building. Dwelling on creative pictures, effective explanations and different types and thousands of quizzes supplementing the lessons the application of what is taught is furthered by extensive set of translations and comprehensions. These features make the app comprehensive apart from being easy to learn.
Abheda English is so designed as to effect both self-learning and teaching. Anyone interested in teaching may download Abheda English onto one's device and teach from there or connecting the device to a TV or a projector. Please visit https://www.facebook.com/AbhedaEnglish/ for regular updates and https://youtu.be/biFJRk5mEQQ for features of Abheda English.
What differentiates Abheda English from contents of similar nature from other sources is its quality to communicate and interact with any group of learners. Our contents are comprehensive, but contents alone can not achieve this quality of communication; development methodology has a major role to play here. One needs to factor in our Agile and Iterative Methodology of Development with students' feedback paving path for updates and next set of content creation. We did not impose, we proposed only. The success, failure, difficulties, suggestions from students in dealing with the contents were noted, and contents were updated on that basis. Monolithic monotonous learning in the form of serially presented matter is discouraged in our mode of teaching as we keep recalling that we are dealing with lowest common denominators of the society as well. We mostly brought up idea-centricity in our contents and built connected mass around an idea. As for ease of learning we have not exposed the learners to any difficult English word up until 5-6 modules are learnt. This unique handling of psychological aspects along with rich interactive contents through a step-by-step syllabus and an iterative development methodology are the key differentiators that Abheda English treasures.
FEATURES
USER EXPERIENCE
SUCCESS STORY
Our major success stories are around the students who have the appetite to learn. So we are confident now that students, who wish to learn, can overcome psychological barriers (read, fear) of learning English and express themselves in correct English, even before completing our whole syllabus. And this is not an overnight activity. An average student takes 6 months to master Abheda English while for below-average students time duration is usually varying.
The reader can have glimpse of our English Self-learning Project at.. https://youtu.be/tDszpbcRmHE
Screenshot
(click pictures to enlarge)
Download