WHAT WE DO
CONTENT DEVELOPMENT
India has huge disparity in the quality of education that different strata of its society receive. Not limited to rich-poor alone, this can be easily extended to rural-urban, low caste-high caste divisions and so on so forth. And the ever-increasing rate of student enrolments and inability to recruit and maintain teachers to meet the yawning enrolments at match-up speed add to the problems, not to forget not-that-effective teaching learning material for first generation learners (new enrolments). Another question arises – so much is the influx of enrolments and so less is the intake of teachers, shall we ever be able to pay salary to enough teachers to teach all students, even if we are ready to discount quality of teaching?
These inequalities and anomalies warrant technology to check in. Digital education thus is reckoned as the only way forward in our opinion, should we want quality digital educational contents, suitable for first-generation learners to average students and as interactive as a good teacher, to be delivered to the most deserving through cost and quality effective delivery mechanism(s). No book can ever be of this interactive nature, and although there can never be a substitute for good teachers, these contents, if developed innovatively, may serve to match them up. Technology is a great leveler. We have witnessed plenty of that during telecom revolution days in India.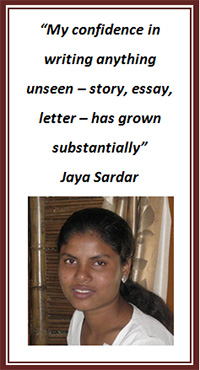 But making digital contents for the underprivileged is not an easy task. Ascertaining requirements and prioritizing them is tough, and more than this we already have myriads of contents available on the web and as apps, leading to the unhappy problem of choosing from plenty. Assimilating them may still be possible, focusing on a predefined objective. What is tougher is to determine what the lowest stratum would need and be comfortable with – generalizing is an involved act too. And trust us, (huge) existing digital contents that we take note of are hardly meant for our intended group. For the educated, placing the top hand as bar or ceiling of knowledge is rather straightforward, but the hand down below for the lowest level is intricate to position. Top down approach is what the most took.
To this end we at Abheda Foundation took an iterative agile approach upon fixing English as the prioritized requirement. Surely approach has to be bottoms-up. We rested on our scholarship holders to provide feedback to us as they kept using our contents. This triggered change in our contents. We began with a minimal set of easy sentences, subjected them to this our test-bed of students, observed their success, failure and difficulties and upon feedback redeveloped our way through. This spiral process helped immensely. When, for example, sentence construction turned a fearful activity for students, we introduced an interesting (word-order) quiz to weed out their sense of foreboding. When remembering phrasal verbs was gruesome, we dealt it with picture association to these verbs. We have thus been able to develop our first flagship application Abheda English, which teaches English through Indian languages. The catch-line is 'English for every Indian'. It inculcates joy of learning through ease, simplicity, removal of already-learnt anomalies, easy explanations and quizzes. It is our first step towards objective of gamification of education. Who likes to study, majority like to play video games !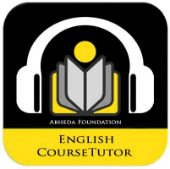 Next, we contemplated to find that Abheda English is a good tool for honing up writing skills, but a language is better learned by listening and speaking. So Abheda's endeavor for developing reading and speaking skills began in May, 2017. We discovered that it would be a good method to make a student proficient in these skills through an English syllabus familiar to her. If the chapters pertaining to a syllabus known to a student is read out by software, the student will acquire the skill of listening. And if she can read and record her version of the text, comparing the software generated pronunciations with her own one would make a huge difference in her learning. Additionally, if the meanings of the text are available in the software in English and her mother tongue, the knowledge will be rounded off to a nicety. In this effort, Abheda Foundation launched its free software English CourseTutor in November 2017 on Android and Windows platforms with West Bengal Board of Secondary Education's whole syllabus (class I to class X) included in it, to begin with. Later, we could release its next version in March. 2018 with better user experience. Also the Tripura Board English syllabus is now included in the app.
Our objective is : hear English text, read English text, speak English text, know the text meanings and so this is how you learn English. Spoken English too is easier now. Now that a student knows the meaning of the sentences, we recommend that she just practice again and again speaking the chapter sentences, keep recording them and go on comparing with the software pronunciation carefully time and again. She should learn to pronounce English sentences this way. Now she may try to speak any English sentence outside her syllabus. She will find that her confidence in English speaking is growing.
CONTENT DELIVERY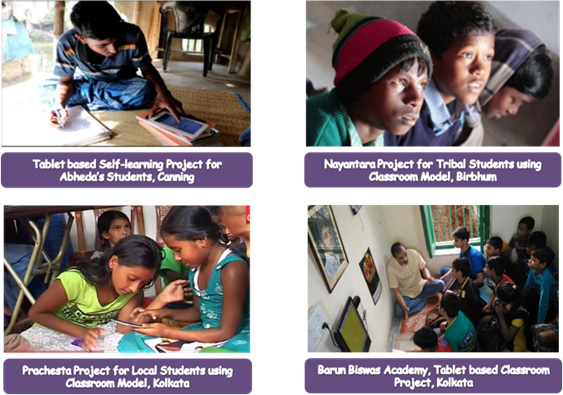 Some Projects
The educational effectiveness of ICT depends on how and for what purpose they are used. In Abheda Foundation we seek to be the backbone of the growth of education in the nation. Hence we are creating a strong base of what can be called Student Support Hubs (SSH). These SSHs can reside in a school or a home or a coaching centre for the underprivileged or can be built afresh. Partnering with right NGOs and sponsors, Abheda provides in these hubs the best quality education to the students from marginalized sections of the society in tuition mode - online and offline - with digital education support materials - either developed by Abheda or researched and assimilated from internet - that are pertinent to their everyday school activities. These are supplemented with tutelage using interest creating materials from the web, which are researched and assimilated by Abheda team. Add to them Abheda's free flagship applications Abheda English and English CourseTutor.
The above contents coupled with our delivery models and methodology constitute Abheda Foundation Digital Media Platform for semi-privileged and underprivileged students. Delivery is being effected either through self-learning with low-cost tablets in semi-supervised mode (Self-learning model) or by creating classrooms at SSHs through tablets loaded with Abheda English and attached to a TV in totally-supervised mode (Classroom model). We also promote distance teaching in this platform too (Virtual Model). Please view 'How We Do' page for more details of these operating/delivery models.
Digital contents are still out of reach of the underprivileged, so SSHs have been instituted in Kolkata and rural parts of West Bengal. Teaching English through Abheda English has been our main objective there, English being the need of the hour. While some projects (e.g. Tablet based Self-learning Project for Abheda's Students) are very successful, we have enriched our experiences through others.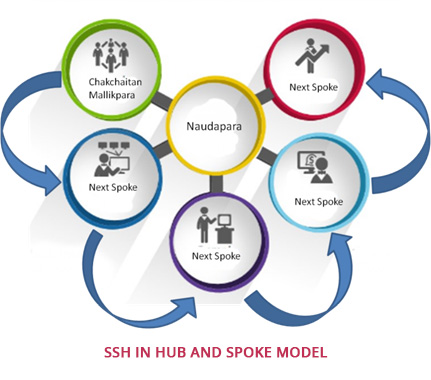 Though we have been able to run digitally-intervened tuition centers successfully with each having sufficient number of students but employing any one of our operating models, our next step is to enable a panchayet (a collection of adjacent villages or hamlets) with digital resources and impart quality digital education and vocational training for substantially larger base of students using all our operating models. Our mission is to build a digital hub at a central location in that panchayet, and a number of digital spokes around the hub within that panchayet only. The digital hub will create a digitally-enabled human resource base and entrepreneurs, who can leverage their knowledge and experience gained in the hub to (build and) manage the next digital spoke and so on. While nature and number of operating models may vary in hubs and spokes, the digital hub will make use of all the operating models. Once successful, this endeavor of us will be showcased to sponsors and Ministry of Human Resources for implementing as a replicable model across India.
We selected Sagarpara Panchayet of Jalangi block in Murshidabad district of West Bengal for this endeavor. To this effect Naudapara, a locality situated centrally in the panchayet, is the place where we built our first digital hub Abheda eSchool in January 2017. We employed the self-learning and classroom teaching operating models here. Our first digital spoke is at Chakchaitan Mallikpara, a remote village in the same panchayet inhabited by people belonging to the scheduled tribe, not having roads and sewerage system of its own, infested with contaminated water and abject poverty. Here Abheda had funded and built its first primary school 'ShriRamkrishna Shishu Mandir' as small children there were unable to commute to nearby schools of adjacent villages in monsoon. We will employ our remote teaching (virtual) model here with teachers from Kolkata and elsewhere teaching the underprivileged children with researched contents.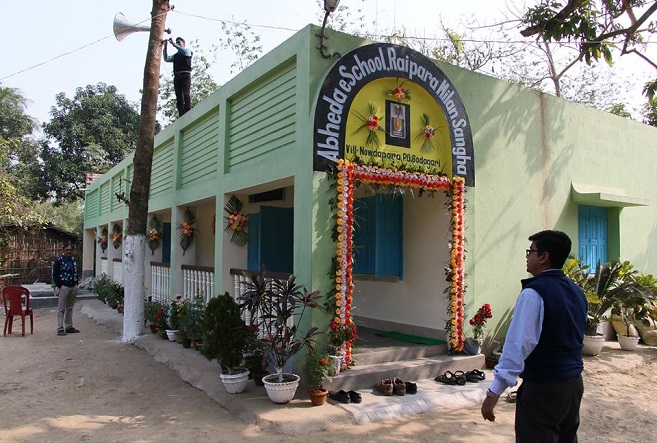 The Digital Hub - Abheda eSchool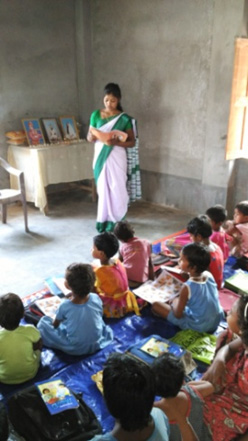 The Digital Spoke - ShriRamkrishna Shishu Mandir
SHAPING FUTURE: MAN-MAKING
Abheda Foundation's journey began in 2012 with 24 meritorious and financially challenged students of Canning Subdivision in West Bengal being awarded Swami Vivekananda Scholarship for education. We extended our family to 48 members in 2013 and conducted medical and summer camps for them from time to time. Then on 12 January 2014, we embarked on an English teaching project for the family as each member was given a tablet for self-learning English through Abheda's contents. Abheda volunteers took care to call the members on weekends to clear doubts only, thus imparting no or little teaching. Regular assessments followed and in years' time, we find most of the members proficient in English. Please view Success Story section under Abheda English for their phenomenal progress in English.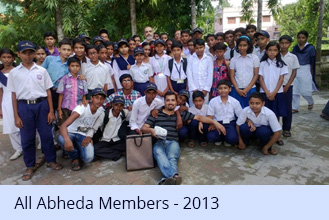 All Abheda Members - 2013
Members at Abheda Office - on Eid
Presently we offer a scholarship to 55 members with some of them being covered on whole of their educational expenses. But it is not about scholarship alone. Abheda team stands beside the members, and this interaction is a regular phenomenon. We are a family now as may be observed in the posts and photos in Facebook page Extend Your Family (scroll to the bottom of the present page for link). We plan their career paths by aligning aspiration of the members and pieces of advice by experts. Special medical assistance, if needed, is provided. Educational tours and picnics are organized periodically. The members frequent Abheda office for days – for learning, medical needs, pieces of advice, during festivals and sometimes for no reasons! This is a sweet bonding we have grown.
The Abheda team nurtures the members subtly. They are taught, for example, that selflessness and purity are the only pillars of religion (Swami Vivekananda's saying), not forgetting the sticking to truth albeit. Stories involving great people pave the path for value-based learning in them. To instill empathy in themselves they look up to Abheda Foundation only. They, the future torchbearers, own Abheda Foundation now.