Products
English CourseTutor
Overview
English CourseTutor is a unique and free software from Abheda Foundation on Windows and Android platforms that enables underprivileged students to learn the contents of their English curriculum by listening, pronouncing and getting to know the meanings of the chapters pertaining to their syllabus. To begin with, we have included the English syllabus of West Bengal Board of Secondary Education (WBBSE) and Tripura Board of Secondary Education (TBSE). So Bengali medium students can now learn English through their syllabus contents.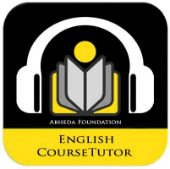 A language is best learned by reading, listening and speaking. And when a syllabus chapter familiar to you is read out for you (Text-to-Speech), when you speak, record listen and check your own pronunciations of a chapter text already known to you, when the meanings of its words are already explained by the software, then you are learning English better through your own syllabus. Hear English text, read English text, speak English text, know the text meanings and so this is how you learn English.
Spoken English is easier now. Speak English easily now. Now that you know the meaning of the sentences, just practice again and again speaking your chapter sentences, keep recording them and go on comparing with the software pronunciation carefully time and again (Speech-to-Text). Learn to pronounce English sentences this way. Now try to speak the whole chapter text before a teacher, a friend or a mirror. Once you are comfortable, try out an English sentence that is outside your syllabus. You will find that your confidence in English speaking is growing. Your spoken English will improve definitely.
We suggest that if you are weak in Spoken English, just set the Magnify mode on with zoom, make the reading speed slow, and listen to your preferred text many times. This will make the app read out the text word by word and quite slowly for you to comprehend it and get accustomed.
If you are a teacher, this software is a good aid to teaching the West Bengal or Tripura Board English course in a class or at a coaching center.

Additionally, you may download the free English-Bengali dictionary BAPPI from Google Play Store and keep it open while running English CourseTutor. This will automatically show you offline the Bengali meaning of an English word that you copy in Magnify mode of English CourseTutor.

Also learn English from Bengali through Abheda English, another unique free Android app from Abheda Foundation.
A Windows version is also available at Abheda Foundation's website. Remaining on this page, you may scroll below to download from there.
If you have a feedback to give or a question to ask, please feel free to write to us at EnglishCourseTutor@gmail.com.
FEATURES
· Download any chapter for the class you study in
· Listen to the contents of a downloaded chapter of English syllabus of West Bengal Board as the text is pronounced by the software (Text-to-Speech)
· Change the speed of pronunciation (slow, normal, fast)
· Magnify a word being pronounced (small to big)
· Speak, record and listen to your own pronunciation of a text
· Speak and compare your version with that of the software (Speech-to-Text)
· Know the meaning of a word in English (offline dictionary attached)
· Translate any word in the text into Bengali (online dictionary attached)
· Get notified when a new chapter is added/modified or a new version is released (useful for syllabus changes)
· Remain offline (no internet needed) once a chapter is downloaded
USER EXPERIENCE
Coming soon...
SUCCESS STORY

Success stories are yet to develop.
Do keep a watch on the Facebook page for success stories https://www.facebook.com/englishcoursetutor/
Screenshot
(click pictures to enlarge)
Download